Some of your best prospects are the people
you already know and do business with!
Why spend buckets of money on generating new customers when so many of your inactive ones are amenable to your attempts to regenerate their business if you reach out to them in a positive and meaningful way?
Touching your customer base via email marketing, promotions, online surveys and events are great ways for a small business to grow customer relationships and succeed.
Email Marketing Campaigns with Constant Contact
are easy, affordable and proven

*

to get results.
*Email is 40x more effective at acquiring new customers than Facebook or Twitter.
Source: McKinsey
Whether you're looking to engage your customers, build your audience, drive sales or donations, or increase your overall brand awareness, Snap Creative Group has the online marketing expertise to help you succeed. In addition, we have partnered with Constant Contact, the leader in Email Marketing—as part of their Solution Provider Partner Program, to help you bring all of your marketing efforts together to grow your business.
You can:
Get your message in front of more people. Track your success in real time.
Use AUTOMATION.  Set your emails to automatically be sent to the right people at the right time from the right lists.
Send unlimited emails per month; you are charged by the number of email addresses on your lists, not the number of emails sent.
Choose from easy to customize templates to showcase your brand – all mobile friendly and responsive
PLUS the ability to track who opens your emails and post to your social media profiles
Other features include:
Event Marketing
Donations
Surveys
Coupons
A/B Lists to measure your results
Not-for-profits can take advantage of special discount rates!

And did you know that email marketing
can help improve your website's SEO?
"Would you believe that I just got a referral today from when you sent out a Constant Contact email blast for me two years ago!"

Hugh Dixon,

StoneAge Stonescapes LLC, Atlanta, GA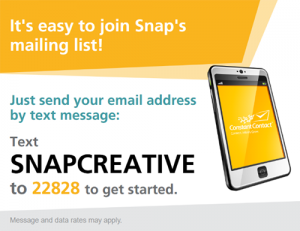 Contact us today to learn more about how we can leverage the power of Constant Contact to help your business succeed.